Welcome to SightLine Signs & Graphics.
Please bear with us as we work toward a major website overhaul and update coming in early 2020. Our gallery pages do still work but the gallery is an older flash based gallery and as such it will only work with an older browser or browser that has Flash support enabled. Once we redo the website the gallery will be compatible with all devices and browsers.
SightLine Signs & Graphics produces ultra high quality wide format digital prints. We are ideally suited for producing commercial graphics for many indoor and outdoor applications. We assist businesses in promoting their products and services through high quality full color digital mediums. From Business Cards to Full Vehicle Wraps and many others in between - we aim to please.
Window graphics
Custom wall murals
Fabric and vinyl banners
Screen printed and embroidered shirts / hats
Magnets
Trade show displays such as popup banners
Vehicle graphics and wraps
License tags
Promotional products and business cards
Prints mounted to substrates such as foam board (Gator Board) and pvc board (Sintra)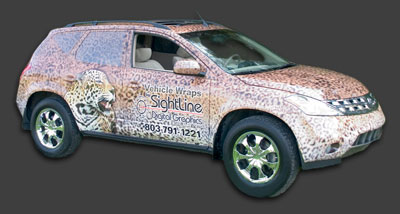 Wraps -
No shop in the entire midlands area (literally within 50+ miles) has printed more or wrapped more than SightLine. Since 2003 we have fully printed and wrapped hundreds of city buses and thousands of other vehicles and trailers ranging from smaller passenger cars to full size work vans and service trucks. We have striped and/or wrapped hundreds of ambulances, police cars, fire trucks and other vehicles for law enforcement and emergency responder agencies throughout the state.
With the sheer volume of the amount of work we have done we have the most experience in the area. We also sub out very little and do nearly everything in-house. We design, we print, we install, we embroider, we fabricate and more. We are also one of the only shops in the area with a proper indoor install bay large enough to bring in the largest buses, coaches, and trailers. For the best possible installation it is very important to have a proper installation environment. That being said, sometimes there is simply no other option but when possible indoors is best.
We are not the cheapest around nor do we aspire to be. SightLine has from its very beginnings been focused on quality above all else. There are cheaper materials available that you can get from other shops. We refuse to use these cheapest materials. We have seen it first hand too many times - you might save a hundred bucks now but when the material fails early or ends up costing 4 times as much to remove later than you have not really saved anything and the shop that sold it to you really did you a disservice.
Cards from SightLine!!
Get a box of 1000 top quality business cards for just $49.00. Our cards are the best around - heavy 16 point card stock, full ultra high gloss uv coated, or smooth matte finish. We also have other business card options available such as 2 sided, spot UV, silk laminated, and special waterproof and tear resistant cards.
With our new low volume full color digital press SightLine also now offers economical short run posters and prints up to Tabloid Extra 12" x 18" side on up to 80lb gloss cover stock as well as full color short run flyers and prints (1 or 2 sided) from 8.5" x 11" high gloss flyer stock to legal, tabloid, and tabloid extra sizes.
Please explore our site to find out more about the many things we do and sevices we provide. Explore our gallery to see some of our work and projects. From idea design to installation and everything in between - SightLine is always on Target.