About SightLine Signs & Graphics
SightLine is a large format digital printing company that specializes in ultra high quality large format digital printing. SightLine offers a large variety of digitally printed materials. We pride ourselves in high quality materials and workmanship. We custom design, print, produce and install our work. We have an incredible creative design team and graphic artist as well as some of the top installers in the southeast. With over 50 years of combined experience in the graphics and digital arena we ensure that your experience is exciting and smooth.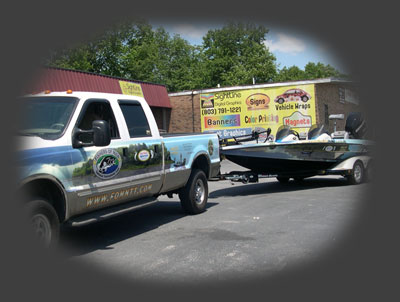 In addition to large format printing we also contract for local / regional installations for national and regional campaigns. We offer custom logo design services as well as ideas for new business branding. We also bring to the table business cards and many promotional products for trade shows and business promotions and advertising. We work closely with our clients to assure that the end product is exactly what you wanted. We have many years of experience in this industry and are ready to get your job done with the quality and personal attention that you deserve.
Over the past 10 years or so we have built our reuptation on quality being the top priority. SightLine is not a "quickie" strip mall sign company. With over 21,000 SF of space we have the facility and room to get the job done right. Our climate controlled install bay can handle the largest of vehicles, even full 54' trailers with ease. Completey inside, safe and secure. No other shop in the area has this ability on site, few even will try to wrap something that large. We also take pride in doing it ourselves. We outsource very little but if something is beyond our capabilities or comfort level we will let you know and will find the best option to fit your needs.